State Service of IP and Innovation under the Government of the Kyrgyz Republic (Kyrgyzpatent)
Activity
Authors may exercise their property rights individually or by using the system of property rights collective management. Article 44 of the Law of the Kyrgyz Republic "On Copyright and Related Rights" (hereinafter the "Law") establishes that in order to ensure the property rights of authors, performers, producers of sound tracks and other owners of copyright and related rights in cases where it is difficult to implement such in practice individually, there may be created organizations that exercise and protect the rights of these individuals on a collective basis.
According to Article 47 of the Law, before certain organizations, which manage property rights on a collective basis are created, Kyrgyzpatent performs the functions and duties of such organizations.
Within the framework of that activity, Kyrgyzpatent, among other things:
concludes agreements with the owners of copyright and / or related rights on the management of property rights belonging to them (such agreements provide, in particular, for the collection by the Kyrgyzpatent of royalties, as well as protection, if necessary, of the rights and legitimate interests of the rights holder);
concludes agreements with users on the right to use works (such agreements provide for users to obtain permission to use works subject to payment of copyright and other types of royalties for such use);
ensures collection of royalties for the use in the territory of the Kyrgyz Republic of works and other objects protected by the legislation on copyright and related rights, their distribution and payment to rightholders;
protects the rights and legitimate interests of rightholders in cases established by law.
Users of copyright and related rights include: television and radio companies, theaters, concert halls, public catering enterprises (cafes, bars, restaurants), sound tracks producers, concert and entertainment events organizers, content providers, shopping centers and others.

Established
1996
Structure and Management
Central Office
The State Fund of Intellectual Property
The State Patent-Technical Library
The Board of Authors under Kyrgyzpatent
The Council of Related Rights Holders under Kyrgyzpatent
Chairman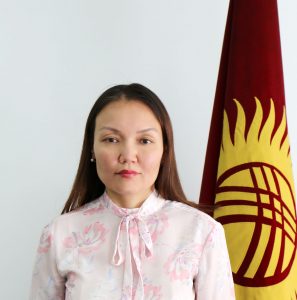 D. Moldosheva